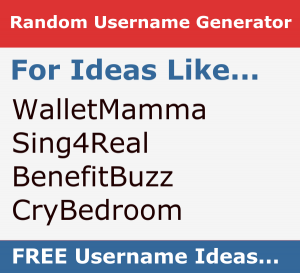 The Random Username Generator will help you discover fun anonymous usernames. Depending on your needs the returned names may also reflect your personality and even your gender.
Why should you use the Random Username Generator?
Because you want a random username, to help protect your identity or your kids online.
Or you have a boring name and you want to make logging in more fun.
Because you want an alliterative username that's cool and easy for you and your followers to remember.
Or you want a made-up name that still references your personality or gender in some way.
The generator is easy to use, so you can dive right in. Make your selections, or leave the dropdowns set at "Random" and click "GENERATE USERNAMES". You can find out more about protecting your identity or your kids online or about alliteration and other settings below. Check out "How the Random Username Generator Can Help You" below: