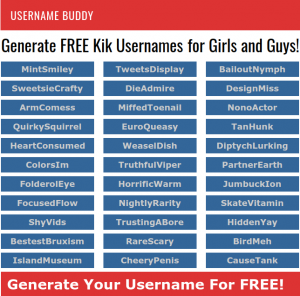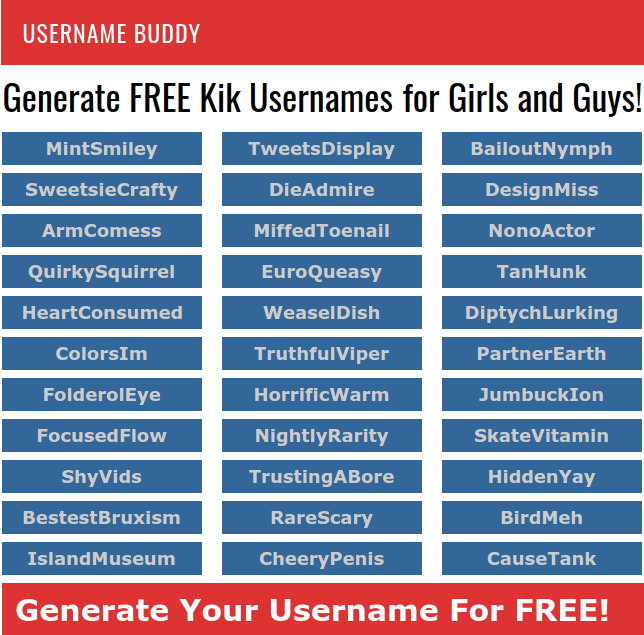 Want to start messaging for Free, but no luck finding great Kik usernames?
It's no wonder! Kik has a whopping 300 million users Worldwide.
And a massive 40% US teens and young adults use Kik.
That's a lot of usernames, and you need to stand out!
You need a Free way to generate fun name ideas that Kik users will respond well too.
Perhaps you want Cute Kik Usernames for a Girl?
Or Cool Kik Usernames for a Boy?
No matter what you need Username Buddy can help…
Search Kik Usernames for Free
Username Buddy has 2 generators that can help you generate a great Kik name. It all depends on how random you want your name to be:
Random Username Generator
Will generate Kik name ideas that are random in nature. You can select from word lists to add in word topics that suit you. For example "Crush – Love – Romance" is going to return name ideas with words like "Snuggle" in them. Whereas "Angry – Annoyed – Disgust" will return name ideas with words like "Evil" in them. If you want completely anonymous made up names you can set the topics to "Random" and all word lists will be used.
Random Username Generator
Smart Username Generator
Will generate a Kik name based on a word or phrases that you use. Otherwise, it works in much the same way as the Random Username Generator. You can keep the topics random or select topics that match your personality hobbies or whatever you like. You can also "Enter Starting Letter" that matches your word or phrase and get back names with alliteration.
Smart Username Generator
How to Choose a Kik Username?
Choosing a Kik Username is easy with Username Buddy, but the tools work best if you know how to use them:
Safety First
Sorry to be a drag but Safety does come first and Kik isn't for everyone.
Safe Smart Social rate Kik as a RED ZONE app for use by ages 17+. In other words be careful out there, here are some helpful resources, which you should read before you use Kik:
Short Names Work Best
Short names are instantly absorbable. In other words, people instantly understand your name and the meaning behind it. That's essential if you want to reach out to people on Kik, they need to know what you're about immediately.
Real Names Generally Suck
Real Names Generally Suck!  For one thing, lots of people are likely to have a similar name to you. You don't want to get lost in amongst other Kik users. Remember that Kik enables users to connect with strangers, which is amazing in a perfect world. Trouble is we don't live in a perfect world, so be careful what you include in your username. You may not want to reveal too much about yourself to strangers.
Get A Cool Alter Ego
Use your hobbies and interests to show off your personality. The Smart Username Generator allows you to enter relevant words, that way you can attract people who are you're likely to gel with. Both the Random and Smart Username Generators allows you to select topics that reflect who you are, or how you want to be perceived.
Avoid Numbers and Random Letters
Using numbers or random letters will just make you look like a fake or bot account.
Get It Right The First Time
Many users wonder if they can change their Kik username. The short answer is No! You can't change your Kik username you can only edit your Kik display name. So the message is! Get your name right the first time.
Cool Kik Username Examples
Need some inspiration? Want to find out how the generators can help you? Find out how to generate Kik Usernames from the following examples:
Cute Kik Usernames for Girls
There are several ways that Username Buddy can help generate Kik Usernames for Girls.  For example, the Smart Username Generator allows you to enter your nickname, first name, full name or a mashed up version of your name. In the following example, the image shows name ideas for a girl called Emma.  Using the "Funny – Humorous" topic to add Suffixes into the mix:
Cool Kik Usernames for Boys
There are also many ways to generate Kik Usernames for Boys.  Let's go for an anonymous username using the Random Username Generator.   In this example, let's try for a cool funny name that's male but also random. In this instance, we will use the "Men – Boys – Masculine" topic to ensure the name ideas are all male in nature. We want a funny name so let's select a topic like "Body Parts" to generate cooler, funnier ideas.  Everyone knows that alliterative names are memorable so let's enter B within "Enter Starting Letter".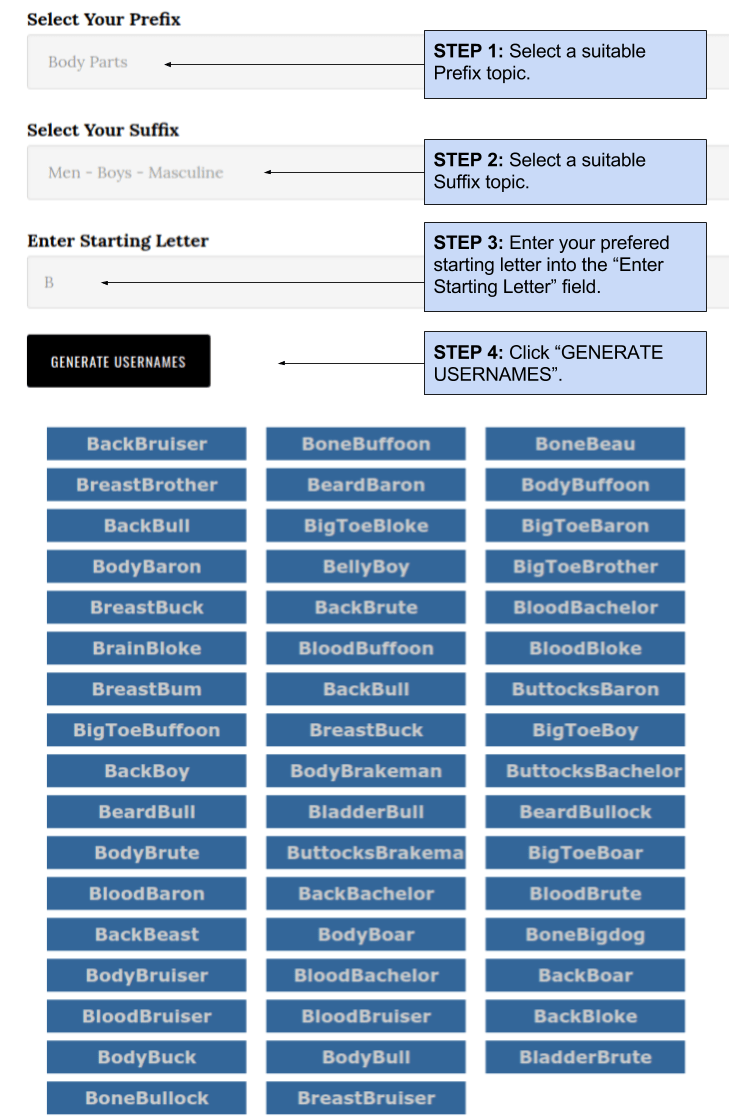 Fun LGBT Usernames for Kik
Username Buddy has 2 generators that can generate Lesbian, Gay, Bisexual or Transgender usernames for Kik. Which generator you use depends on your needs, do you want a random name or a name that contains a keyword that's important to you?
So, for instance, you can make use of "Men – Boys – Masculine" or "Women – Girls – Feminine" to get gender specific name ideas. You can also mash gender topics together adding them as both prefix and suffix.
In this example, let's use the Smart Username Generator to add in the word "Gay" and the topic "Cute – Happy":
Obviously, your name doesn't have to have anything to do with your gender, it's all about who you are.
When I developed the generators I could see the need for LGBT usernames for Kik. I thought about adding in an LGBT topic. But as I'm not part of the community I think it's better if you find a word that best describes you.
HINT: You can use the Smart Username Generator to add in words that describe you.  If you're looking for LGBT word inspiration then check out the following:
We Are Family Charleston – LGBT A to Z Glossary
Stone Wall – Glossary of Terms
Check Your Kik Username Isn't Taken
Unfortunately, Username Buddy doesn't let you check name availability on Kik at the moment. If you want to quickly check your usernames on Kik and across multiple sites check out Namechk