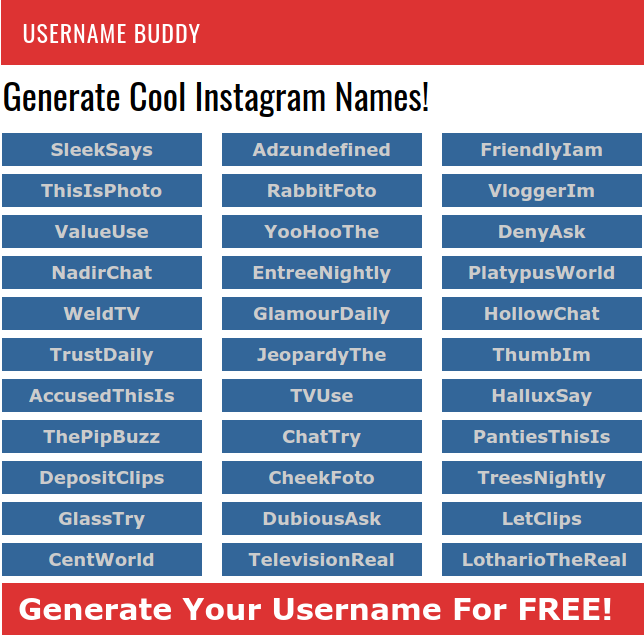 Want to share Pics and Vids from your Smartphone but can't find any Cool Instagram Names?
You need a name that helps you stand out from the 700 million active users.
A name that speaks to your followers and helps you achieve some of the 95 million daily shares.
And that's a problem because great Instagram names are scarce.
Are you here because your real name or brand is gone?  Or you need a name that stands out and you're struggling.
Don't worry!
Here's how Username Buddy can help, feel free to click down to the bits that interest you:
3 Instagram Name Generators
Here are some common ways the generators on Username Buddy can get you the Instagram name you need.
Generate Instagram Names For Your Business or Brand
If you're trying to find a name for your brand or business it's likely that you'll have to find a close match name. Go straight to the Real Name Fixer if you want to find close match names based on common naming cheats used by the pros.  If you want to see an example check out "How to Grab Instagram Names For Your Business or Brand" below.
Generate Instagram Names for You (And Your Followers)
You can use the Real Name Fixer if you're well known (or plan to be). The Smart Username Generator will generate name ideas around a keyword or name. The Random Username Generator generates anonymous, made up ideas.  You can see how to's and examples of both generators under "How to Grab Instagram Names for You (And Your Followers)".
How to Score a Cool Instagram Name That'll Get Millions of Followers
Everyone wants to be popular on Instagram, but being popular means getting followers.
It's easy to think that diving in with any old username will work.
But, your username is not just a name it's also your persona and how people connect with you as well. Think of your username as your phone number, email and identity all rolled into 1.
Here are the naming rules you should follow if you don't want your account to fade into obscurity.
Be Yourself
You want to be yourself, the trouble is you've found that someone else has your username. Why not change your name in some small way.  You can use a part of your name, rework your name in some funny memorable way.  Or, create a brand new name that mirrors your persona by adding in meaningful words.
Be True to Your Followers
Consider your followers. If you're going to cover serious subjects you don't want a flippant name. If you're going for comedy, you can open up and go for something very different. You need a name that will sit alongside the images and videos you're posting.
Make It Unique! Make It Stand Out
You can also think about names that align to your theme but remember you want to stand out. Using a common word that everyone in your niche uses will work against you. Better to stand out with something different.
Keep It Short
Instagram names can be up to 30 characters in length. But the point is you want a name that's as short as possible. Generally speaking the longer the name the more difficult it is to read, react to, remember and pass on.
Make It Easy to Spell and Repeat
Weird word combos make it harder to read, say and spell your name. So avoid them and make your name easy for your users to read and pass on.
Make it Memorable
Making memorable names is easy if you know how. Alliteration is when a letter or sound repeats within a short amount of text. Popular examples of alliterative names include Marilyn Manson, Dunkin Donuts, and Mickey Mouse.
HINT: Both the Smart and Random Username Generators' allow you to "Enter Starting Letter".  This makes finding alliterative name ideas easy.
Add Cool Words! Proven to Work
There are some proven words that work on Instagram. For example, James Franco has added "TV" to get "jamesfrancotv", Jennifer Hudson mashes up her name and adds "IAM" to get "iamjhud". Even companies and brands like Givenchy have had to do this with names like "givenchyofficial".
HINT: The Real Username Fixer is good at returning name ideas containing these words.  You can also use the "Good 4 Instagram" topic under the dropdowns in the other generators.
Great Instagram Name Examples
You need an Instagram name that's available, but more than that, it has to be unique and appealing. Username Buddy will take the time out of Username Generation, here are some ways to generate great Instagram names:
How to Grab Instagram Names For Your Business or Brand
The fact is 90% of the world's top brands have an Instagram account.
That's no surprise, as engagement on Instagram trounces Facebook, Pinterest and Twitter.
If you want to set up an Instagram Business Account you'll often want a username that matches your business. Do you have a domain name or brand name and the matching username is gone? If so you can use the Real Username Fixer to come up with a close match name.
Or if you want to come up with something new the following examples should get you started…
How to Grab Instagram Names for You (And Your Followers)
If you want a new name then you have more flexibility.  Here are 2 common examples which should get you started…
How to Generate Instagram Names for Girls
Need cute girly Instagram names? Either the Smart or Random username generators are ideal for this. Within the "Select Your Prefix" and "Select Your Suffix" dropdowns you can select topics like "Women – Girls – Feminine" along with "Good 4 Instagram":
How to Generate Instagram Names for Guys
For masculine name ideas, topics like "Men – Boys – Masculine" used alongside "Good 4 Instagram" can work well. You could also mix in topics with more attitude, for example, "Angry – Annoyed – Disgust" or "Riot – Negative – Punk" will mix things up.
In this example imagine a Dad who wants to use Instagram. The word "Dad" is important to him but he wants to shake things up a bit.  Because he has a starting point word in mind the Smart Username Generator is best suited to get him the right name.